When you have a WordPress website, you should only use companies that specialise in WordPress Hosting.
What is WordPress Hosting?
WordPress hosting ensures if you set up a website in WordPress that it will run properly and it will perform at its best.
If you use a hosting company that doesn't cater for WordPress, then you are running the risk that your website will be slow thus perform badly. This may cause you to lose visitors and traffic.  
If someone comes to your website and it is slow to load they will quickly go back to Google and look for another website that loads quickly.
Having a Speedy website
These days the Internet has become very competitive, therefore you need to make sure your website is up to speed with all your competitors.
Have a fast loading website is crucial especially with WordPress. WP is an amazing content management system that allows you to build any type of feature on the website with the use of plugins.
Plugins can use a lot of resources on your server, so you need to make sure your hosting company can handle this.
How to test for good WordPress Hosting
Most WordPress hosting companies will tell you they support WordPress. But that doesn't mean they will be able to handle the resources used up by your WordPress website, especially if you have lots of plugins installed. (Try to keep plugins to a minimum.)
You need to know if your site will load fast enough once you have set it up.  But you don't want to buy your WordPress hosting to find out later that your website is really slow and the host can't do much about it.
Here are a few ways to test if the WordPress hosting can handle a WordPress website and ensure it loads fast enough.
Some simple tests
WordPress website examples
Ask the host for some examples of websites they host that are built in WordPress
If they are a reputable host they should be able and willing to provide this
Go to these websites and click through some pages to see how quickly the pages load
Test the speed of a WordPress Website
If you live in Australia, user this tool and test from Melbourne.
https://tools.pingdom.com/
You want the speed to under 3 seconds
And performance to be A-B
Any other countries use this tool.
https://developers.google.com/speed/pagespeed/insights/
You want the result to be about 75 + (in the green preferably)
Reviews and Client logos
Check out reviews about the hosting company
Go to google and type in "crazy domain reviews" or "zip hosting reviews"
Most good hosting companies will have clients logos on their website
Just type them into Google and look at their websites
But how will I know if it is a WordPress website?
Go to the website
Right-click on the home page (anywhere)
Go to View Page source
Press > Control F or Command F on your keyboard
Type "wordpress" in the finder box
Then press Enter
If it's a WordPress website it will highlight any "wordpress" words – see image below
Use local (Australian) WordPress Hosting Companies
It's really important to use Australian WordPress hosting companies if your website serves Australian customers.
Make sure the WordPress hosting company users Australian servers only.

If the servers are in Australia, this will help reduce the load time for your visitors.

Also make sure the support is in Australia and available 24/7

This will ensure quick support if something is wrong with your website.
For e.g. crazy domains say their servers are in Australia, but often they are not.
Their support is in overseas call centres, so unfortunately the care factor is not always there.
Other hosting features you should be looking for when choosing WordPress Hosting
Automatic Backups
99.9% Uptime Guarantee
CloudLinux – for increased security and performance
The latest PHP version – needed to support WordPress properly
A Simple Control Panel that allows you to install WordPress easily
Green Hosting
No Lock-in Contracts
The ability to add more domains and subdomains
Unlimited Data Transfer
Unlimited Emails
At least 50GB Storage
24 x 7 x 365 Website Support
WordPress Hosting we Recommend
We highly recommend Quadra for WordPress hosting.  It's fast and professional hosting with all the requirements you need for your website.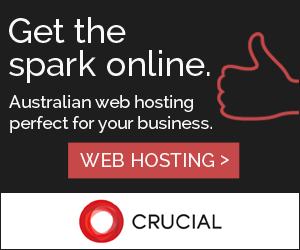 WordPress hosting Companies we DO NOT recommend
This is based on our experience with these companies over the last 15 years. Their support is not very good and the speed of the sites we have worked on, have NOT been fast enough.
Crazy Domains
Ziphosting
Netregistry
Written by Jodi Allbon 2015
Original content.